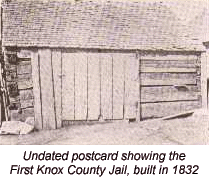 The First Knox County Jail
A contract was made on Sept. 14, 1832 with John G. Sanburn to build a log jail for $250. The jail was used for several years before he finally received payment for it on June 7, 1838.

The log jail was two stories with no doors or windows on the first floor. Stairs on the outside of the building led to the second story. Prisoners were kept on the first floor and were lowered into the jail through a trap door on the second floor. The photograph is of the jail after it was moved to a farm and modified to be used as a corn crib.

There were numerous jailbreaks and on at least one occasion, a prisoner started a fire in an attempt to escape. By 1841, it was decided a more secure jail was needed.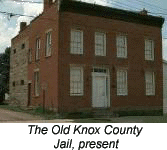 The New Jail
It took several years to complete the new jail, which cost $7,724. Many of the stones used were so large that they had to be transported one per wagon. This brick and stone jail was completed in 1845. The old log jail was sold and moved to a farm near Knoxville where it was reportedly used as a corncrib.

The jail is a two-story building, thirty feet by sixty feet. Six solitary confinement cells are on the first floor and two large cells are on the second floor. The sheriff and his family had living quarters in the front of the building.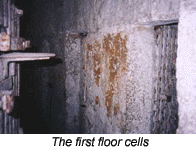 The Hanging
The northwest corner of the jail was the scene of the only legal hanging in Knox County. On March 14, 1873, John Marion Osborne was hung for the August 5, 1872 murder of Adelia M. Mathews of Yates City. Although Osborne claimed he was innocent when the guilty verdict was read at his trial, he confessed to the murder the day before his hanging. Several thousand people reportedly turned out to watch the hanging and artifacts from the event are on display in the jail.
The Closing Of The Jail
The City of Knoxville used the jail for a few years after the county seat was removed in 1873. It was then used as a private residence. The wood addition at the north end of the building was added on at that time, but the exact date of the addition is unknown.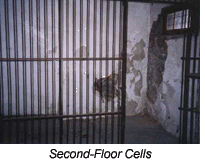 The Jail Today
Visitors can see the primitive conditions in the jail. The solitary confinement cells are dark, with no facilities or windows. Metal rings in the floor of the largest cell on the second floor are said to have been used to chain the insane prisoners. Holes in the floor at the back of the cell were the only bathroom facilities.

The former sheriff's quarters in the jail are now furnished with items from the time period. A display of railroad memorabilia is located on the second floor near one of the large cells.