Old Knox County Courthouse And
The Hall Of Records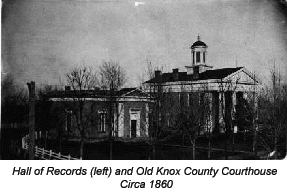 The Courthouse

This building was completed in 1839 and used as the county courthouse until 1873 when the county seat was moved to Galesburg, IL. The two story building was made out of locally produced red brick. The fluting on the exterior of the Doric columns is made out of plaster.

It contained six rooms on the lower floor with a broad hallway running through the center. The courtroom, jury room, and sheriff's office were on the second floor. After the removal of the county seat, the building was used for meetings, dances, operas, and games. The east side was converted into a fire station.

The Knox County Historical Sites, Inc. formed in 1953 to restore the courthouse. Most of the interior woodwork is orginal made of pine and butternut. Some of the original panes of glass remain in the windows. The east room, known as the Henry Knox Room, contains two original fireplaces. The Courthouse is now home to the Knox County Museum, which encompasses the second floor, and the west room of the first floor.

Interesting Facts:

District Judge Stephen A. Douglas held court here from 1841-43.

The cupola was removed in the 1800's because it was too heavy for the roof. The Knox County Historical Sites, Inc. replaced it in 1973. It was designed after the original, but lighter.

The front twin iron stairways were added in 1874.

The west room on the first floor contains the nation's largest museum owned collection of Abingdon pottery. This room also houses memorabilia from schools that are no longer in existence.

Hall Of Records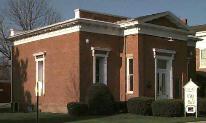 In 1854, the Hall of Records was completed to hold the accumulation of records from the courthouse. It was designed to be fireproof and to insure maximum security. The walls are extra thick, made out of brick. An iron floor, iron shutters and extra steel doors secured the building. Much of the metal was removed to be used during the war.

After the county seat was moved, the building housed the Knoxville Public Library for over 100 years. The library was organized in 1878 and contained 19 papers, 6 magazines and an "unknown" quantity of books, all secured by donations, when it opened. Patrons averaged 36 per day.

The building is now used as the Knoxville City Hall.