The Henry Knox Room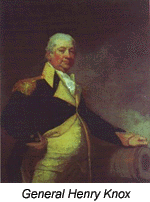 Knox County was named after Major General Henry Knox, a Revolutionary War hero. The eastern room on the first floor of the Old Knox County Courthouse was named the Henry Knox Room in his honor. It is used today for meetings by various organizations.
The large portrait of Gen. Henry Knox, hanging above the fireplace in the photograph of a portion of the room, is a copy of the original portrait painted by Gilbert Stuart. The artist is unknown.
The portrait was given to the Knox County Historical Sites, Inc. in 1959 by A. Edward Guertin, then custodian and curator of Montpelier, General Knox's restored home in Thomaston, Maine. Mary Jane Watts, Thomaston, one of 28 ladies who originally formed the Knox Memorial Association, had owned the portrait. When she died in 1931, Mr. Guertin purchased the portrait from her estate. A painting of Montpelier hangs above a fireplace in the west room of the Courthouse.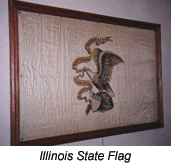 This Illinois State Flag, located in the Henry Knox Room, is the prototype of the Illinois State Flag. Ella Park Lawrence, Galesburg, an active member and State Regent of the DAR started a campaign in 1912 to design a state flag. The contest was held during 1913 and 1914. A $25 prize was given to the winning DAR chapter. There were 35 designs submitted and Miss Lucy Derwent, a member of the DAR chapter in Rockford, submitted the winning design.
Mrs. Lawrence then had five flags made by hand, which were distributed to the DAR Centennial Memorial Hall in Washington, D.C., the Illinois State DAR, the Illinois State Historical Society, the Illinois Governor, and the Illinois Secretary of State.
The flag was adopted in 1915 and the only change made was in 1970 when the word Illinois was added.
This flag, the original, was given by her to Judge George Thompson, and afterwards in sequence, to Senator Wallace Thompson, Mrs. Cornelia Simpson Thompson, the Altrusa Club of Galesburg and then to the Knox County Historical Sites, Inc. It is now preserved between sheets of a special plastic to prevent deterioration from light and dirt.