St. Mary's School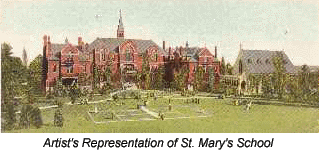 Timeline
1859 - Ewing Female University built
1867 - Ewing Female University closes
1868 - Ewing is reopened as St. Mary's School
1881 - Construction of chapel begins
1883 - St. Mary's School is destroyed by fire
1888 - Chapel is completed and observatory is built
1911 - St. Martha's School built west of St. Mary's
1922 - St. Margaret's School opened
1935 - St. Mary's closes
1936 - St. Mary's is demolished
1983 - St. Martha's destroyed by fire
1996 - St. Margaret's torn down

"St. Mary's is a school for young women who desire to continue their work two or three years beyond the course of the high school. It is a school home where girls become better daughters; where they are systematically trained for the duties of wifehood and motherhood; where they are encouraged to recognize, and where they are required to prepare for, their present and future obligations."
-Dr. Charles W. Leffingwell
Rector, St. Mary's School
History of Knox County, 1912

| | |
| --- | --- |
| | At one time, Knoxville was the home of several private universities. In 1859, Ewing Female University was built just north of James Knox Park. It closed in 1867 and was reopened April 12, 1868 as St. Mary's School by the Protestant Episcopal Church. At the university, young women were taught character, scholarship and refinement. |
| | |
| --- | --- |
| The school was destroyed by fire on Jan. 4, 1883 and was immediately rebuilt. Only the chapel, which was under construction from 1881 to 1888, escaped the blaze. In 1888, an observatory was built. It had a sliding dome that moved on a track. The telescope had a six-inch glass lens made by Alvin Clark and Sons of Cambridge, Mass. | |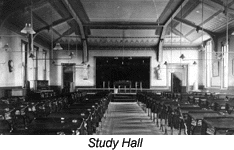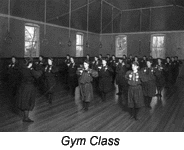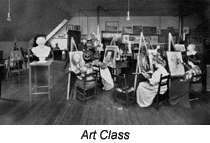 Many of the girls attending St. Mary's were from the Chicago area. The school had a swimming pool, bowling alley and large theater. South of the school was a private park lined with trees and surrounded by an iron fence. The girls would often stroll along Syringa Lane, go horseback riding or take boat rides on the pond.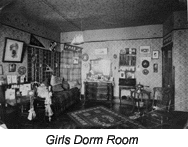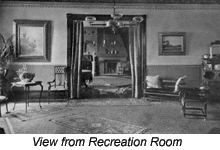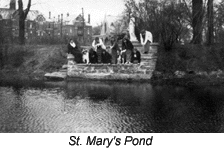 The main building closed in the early 1930's because it was in need of repairs. It was demolished in 1936. All that remains today is the chapel and observatory. The park area was purchased by the City of Knoxville and is now known as James Knox Park. The brick sidewalks and fence are gone and much of the pond has filled in with sediment over the years.
| | |
| --- | --- |
| | The observatory is now a private residence. Two bedrooms and a partial basement have been added, but the original building can still be distinguished from the addition. The tracks were removed, but the dome remains. |
| | |
| --- | --- |
| The Chapel is also privately owned, but has been kept intact. Every year, hundreds of school children visit it and occasionally a wedding is still held there. Recently, two former students visited the chapel, providing members of the Knox County Historical Sites with additional information about the last two years the school was open. | |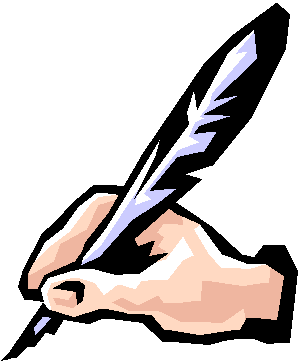 sites@kville.org